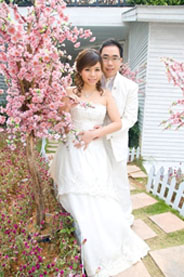 Banker in her 30's
Our client lost weight, learned how to apply make up, improved her dating skills, and is now happily married.
"I was sitting at home and looking at my beautiful baby when I realized that since I work in a bank, the chances of meeting single men were very limited. One day, I decided to sign up for a singles event with one of my friends. On the day of the event, my friend did not want to go with me, so I had no choice but to go there alone. I felt that my first event was a huge failure since I did not get the result I was hoping to find. I then talked to Rachael and told her that I really wanted a boyfriend.
Rachael was very frank with me and said, 'You know that if you were slimmer and had good skin, it will be easier to attract men. Once you get a date with them, they will discover your inner beauty.'
That was when I decided that for two months I would stop all social gatherings, work on my skin care, learn how to apply make up, and lose 20 pounds. I joined her next event, and applied the skills that I learned from Rachael's Coaching Workshop. SUCCESS…. I met my future husband at the second event."
---
Charmaine and Johnson Story
Happily married couple who met in our previous Valentine's Day Party
14 Feb 2009 was a turning point of my life. I met my Mr. Right on that day, got married in 2010, and had a baby girl in 2012. It all started on the Valentine's Day night speed dating event...
I was single at that time and decided to do something different on the Valentine's Day night. The speed dating party started at 8pm and I started dressing up myself at 5pm.
Why attend a speed dating event on Valentine's Day night? Well, I thought that any guy who was free to attend this event should be single, right? And who would be willing to pay to meet strangers on Valentine's Day? Only those who are sincere to look for their Miss Right, I thought.
Lots of my friends asked me what are the keys to finding Mr. Right in a speed dating event. First of all, learn to listen more and talk less. This can let you know more about him.
---